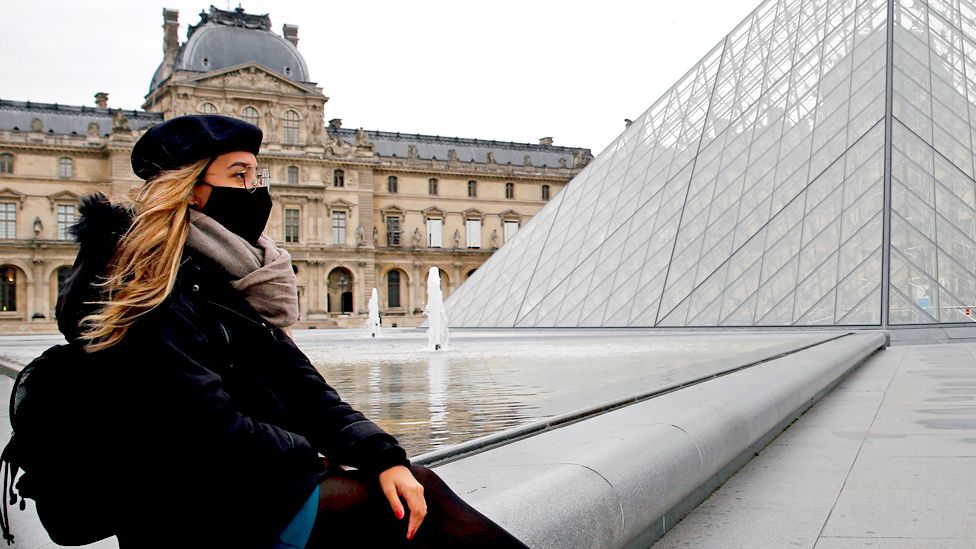 Most European countries introduced lockdown measures at the start of the year, to fight new peaks in infections and deaths.
While some are starting to ease restrictions, others are extending lockdowns or introducing new regional measures.
France: New lockdown on the French Riviera
France has a curfew between 18:00 and 06:00. Shops and businesses must be closed, and everyone must be at home.
Schools are open with extra testing in place. Bars, restaurants, theatres, cinemas and ski resorts remain shut.
France closed its borders to all non-EU countries from 31 January, although hauliers are exempt.
In addition to nationwide restrictions, lockdown measures will be put in place in parts of the French Riviera, including Nice and Cannes, from 26 February to 1 March. People will need written permission stating the reason for being out.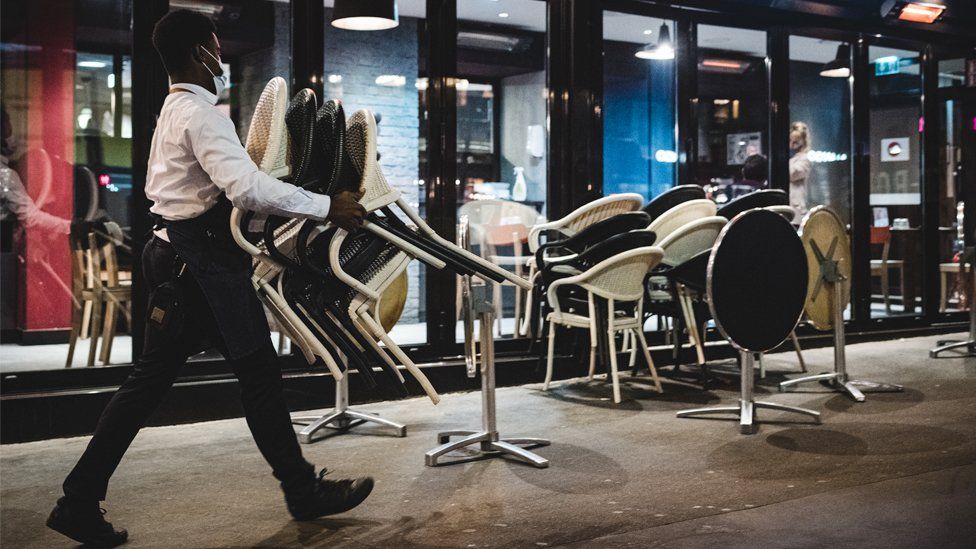 Germany: Medical masks in shops and on public transport
Non-essential shops, as well as hairdressers, schools, restaurants, bars and leisure centres remain closed.
Private meetings are limited to one other person from a separate household.
People can no longer wear home-made cloth masks or scarves as face coverings in shops and on public transport. "Clinical masks", such as single-use surgical masks or filtering face-piece respirators (known as FFP2 masks), are now required.
The measures will be in place until at least 7 March, but schools and hairdressers can open before that date.
On 22 February, primary school children returned to classrooms in more than half of Germany's 16 states, including in Berlin.
Greece: Different restrictions according to infection levels
A strict lockdown since November helped to contain a new surge in infections and, in January, nurseries and primary schools, as well as shops, were allowed to reopen.
But from late January, in areas with high infection rates – the "red zones", which include Athens – new lockdown measures were imposed. Non-essential shops, schools, hairdressers and beauty salons, are once again closed.
In Athens, Thessaloniki and Chalkidiki, a curfew from 21:00 to 05:00 is in place during the week and from 18:00 to 05:00 at the weekend, while in other "red zones" the curfew starts at 18:00.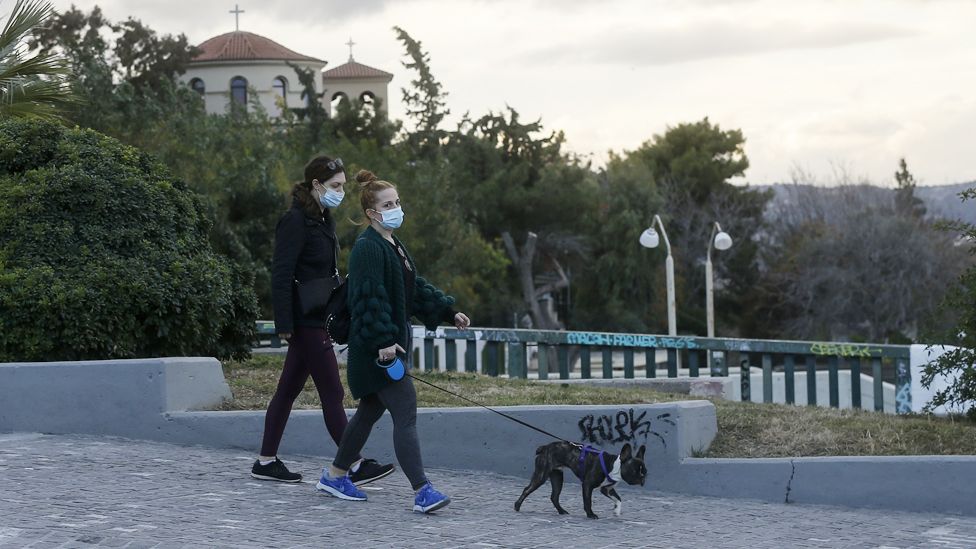 Italy: High school students allowed to return
A nationwide curfew from 22:00 to 05:00 remains in place, travel between Italy's 20 regions is banned, and mask-wearing is mandatory in public, both indoors and outdoors, across the nation.
However, bars and restaurants in some of Italy's regions are now again allowed to serve customers at tables and counters until 18:00.
High school students have been allowed to return to normal lessons, although they are divided into groups, and full classroom occupancy is not allowed. Remote learning has been in place since October.
The Czech Republic: Tighter lockdown
One of the hardest hit countries in the EU, the Czech Republic is tightening its lockdown.
The new measures include closing nurseries and schools for younger children and those with disabilities, a ban on movement between districts and mandatory mass testing for employees of factories and companies that stay open.
Spain: Curfew and other measures to continue
Spain is under a nationwide curfew until early May 2021.
People are only allowed out in that period to go to work, for education, to buy medicine, or care for elderly people or children.
Anyone aged over six must wear a face covering on public transport and in indoor public spaces nationwide. They are also compulsory outdoors in many regions.
Belgium: Lockdown continues
Belgium's lockdown has been extended until 1 April.
All non-essential travel is banned.
A maximum of one person is allowed to visit your home (always the same person) and, for meetings outside, the rule of four remains in place.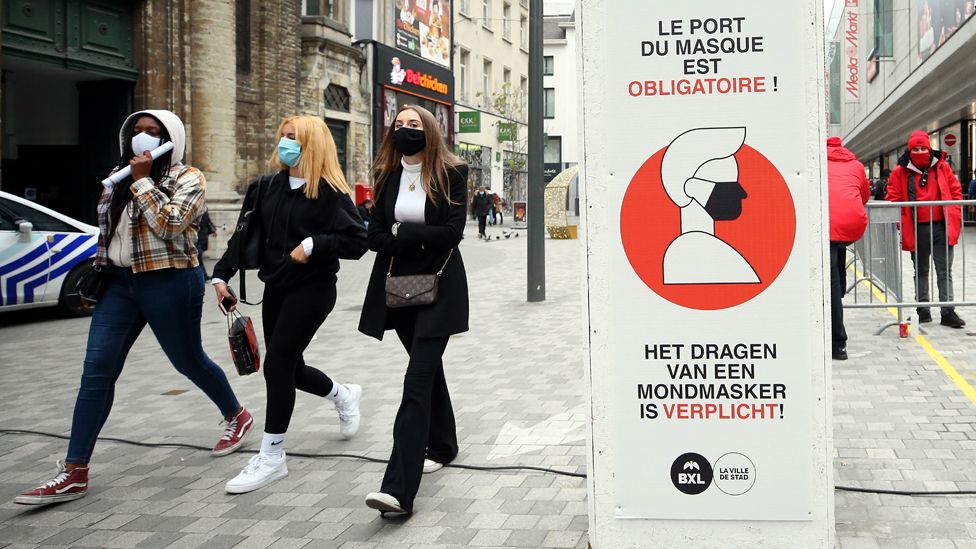 Schools and shops are open but people must shop alone and stay in any shop for no more than 30 minutes.
Masks must be worn everywhere.
Portugal: New lockdown under way
Mainland Portugal entered a new lockdown on 15 January, for the first time since early May.
Remote working is compulsory, non-essential shops and services must close and cafes and restaurants are limited to takeaways and home deliveries only.
Schools are also closed for most children. The lockdown is expected to last until at least 1 March.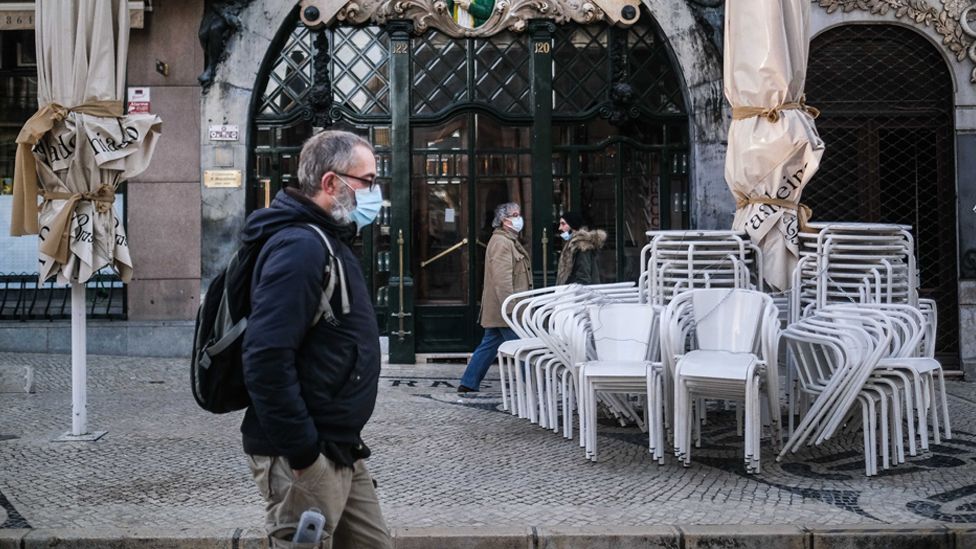 Netherlands: Some easing of lockdown measures
The government has announced the easing of some restrictions.
From 1 March, secondary school pupils will have at least one day's lessons at school.
Hairdressers and other 'contact' professions (apart from sex workers) can reopen from 3 March. Teenagers and adults up to the age of 27 can play team sports outside, and shops can open to customers by appointment.
The 21:00 to 04:30 curfew, which sparked rioting when it was introduced, will remain in place until 15 March.
The government advises against booking any trips abroad until at least 31 March.
Denmark: Gradual lifting of restrictions
The Danish government is to lift some lockdown restrictions. Large parts of the retail sector are to reopen in March, and outdoor activities, such as sports, will resume for a maximum of 25 people.
Older school students are expected to be allowed to return to classrooms in regions with lower infection rates.
Denmark has been in a lockdown since December: all shops and other businesses were closed apart from supermarkets and pharmacies. Schools were open only for younger primary school children.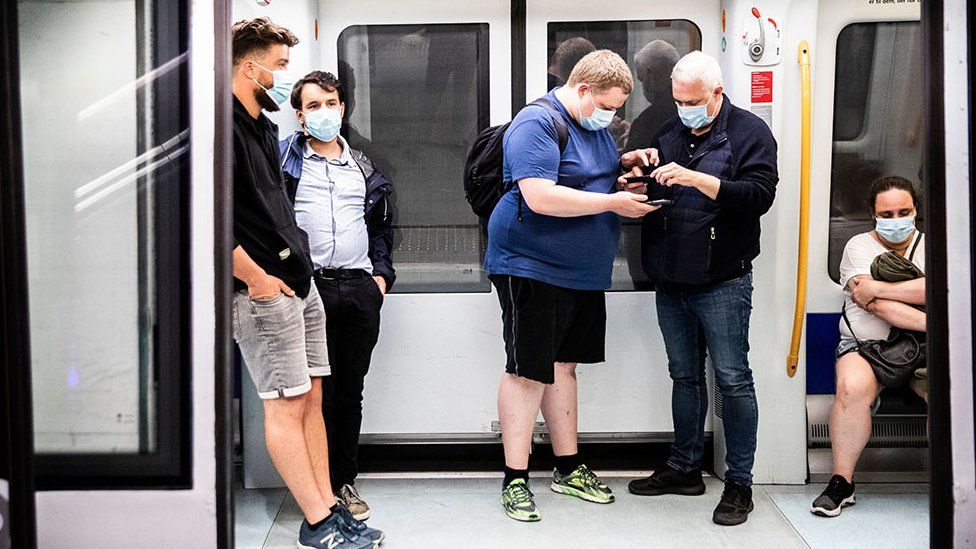 Ireland: Highest level of restrictions to continue
Ireland returned to a full lockdown at the end of December, after rules on travelling were relaxed over Christmas.
The highest level of restrictions – level five – are currently in place, until at least 5 March.
People have to stay at home except for travel for work, education or other essential reasons, or to exercise within 5km (3.1 miles) of home.
No visitors are allowed in private homes or gardens unless it is for the care of children, the elderly or those who are vulnerable. Weddings are limited to six people and funerals to 10.
All non-essential shops, gyms, pools and leisure facilities are closed. Restaurants, pubs and cafes can provide takeaways and deliveries only.
Sweden: New government coronavirus powers
Sweden had avoided imposing rules in this crisis, but on 10 January a new emergency law came into effect.
It gave the government the power to impose coronavirus-related curbs for the first time.
Until now, the Swedish government has relied mostly on the public following official health recommendations voluntarily.
Current national guidelines are asking passengers to wear face masks on public transport in rush hour, but several regions now recommend them outside the rush hour as well.
There is a ban on alcohol sales after 20:00, and in restaurants a maximum of four people can sit at a table.
No more than eight people are allowed at public gatherings or events.
Further restrictions, such as closure of businesses, are being considered.